By Melissa Rosequist | Scottsdale Independent
Will The Kimsey give downtown Scottsdale proprietors a much-needed shot in the arm? Most of Scottsdale City Council thinks so.
The Kimsey — with plans that include a 168-room hotel, 190-dwelling units, a restaurant and commercial space at 7110 E. Indian School Road — was opposed only by Councilwoman Kathy Littlefield, who called the choice a difficult decision. The council's 6-1 vote came during an April 6 meeting.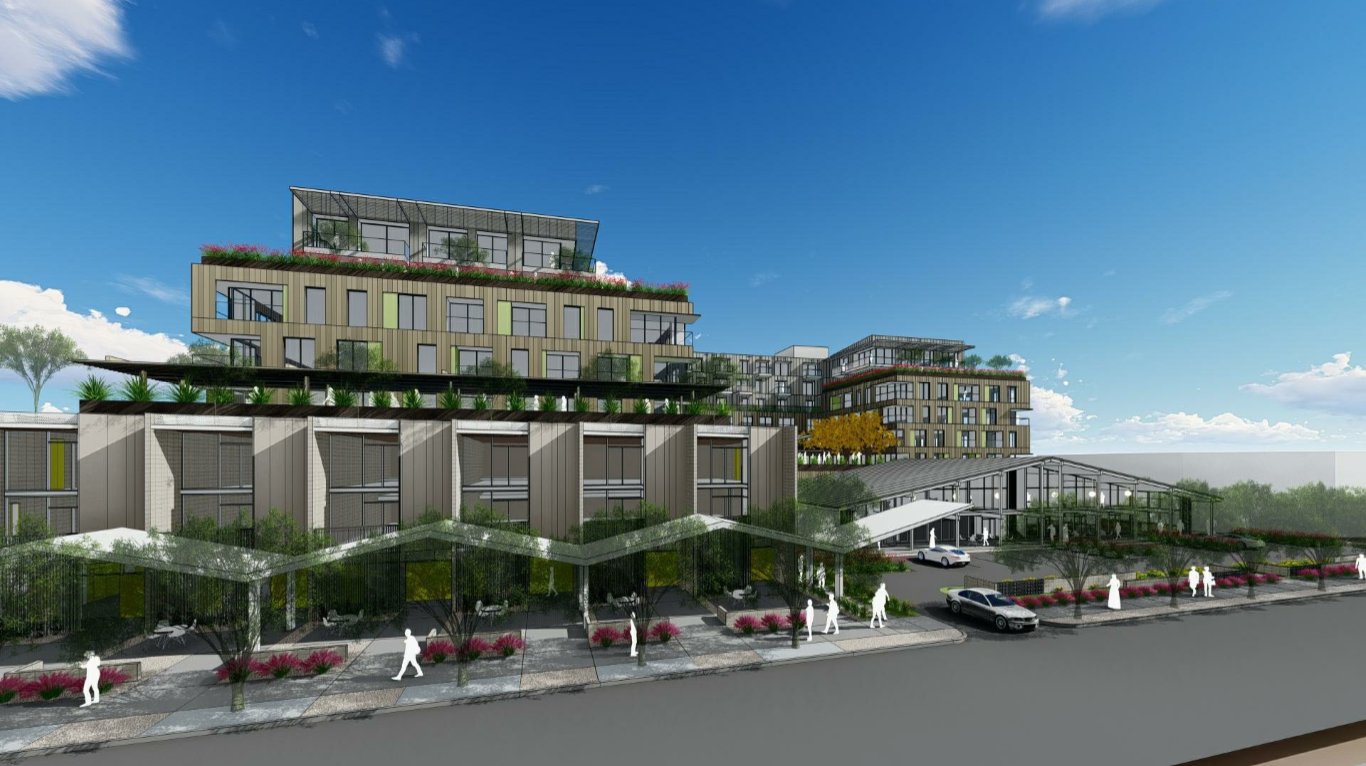 During the council meeting, 20 members of the public gave their two cents on the project. Passionate pleas from local business owners echoed through the City Hall Kiva as proprietors on the other end of the phone talked about how this project will bring revitalization to the area.
Nearly all the speakers were in favor of the project, including a member of the Haver family, who was supportive of Ralph Haver's triangle building being preserved as a part of the proposal.
The Kimsey seeks to redevelop a 3.87-acre site west of Scottsdale Road, between Indian School Road and Third Avenue. The zoning request for the Kimsey would put a Historic Preservation designation over a portion of the site, keeping intact the 1962 triangular Kimsey building, which was used as Scottsdale City Hall from 1963 to 1967 as the city rapidly expanded.
The project's name is drawn from the Kimsey family, who has owned a portion of the property since 1909 where their small circus ranch and home once existed, a project narrative states. The family's contribution to establishing "the fabric of Scottsdale" is memorialized through the development's name.
A project overview lists The Kimsey project as $150 million in new Old Town Scottsdale development.
The property owner is listed as "Scottsdale Inn, Kimsey Prop. & Valley of the Sun."
Zoning attorney John Berry for Scottsdale-based Berry Riddell presented the case before the city, while the architect is Doug Sydnor.
The height of The Kimsey is 76 feet, an aspect of discussion among council members and public. However, one community member, David Free who's business is on Craftsman Court, says for the owners in downtown Scottsdale, this isn't a discussion about height.
"I wish we had the luxury to debate over 9 or 10 feet of building height. However, for the people who live, work and invest in this neighborhood, this is a business survival discussion," Mr. Free said. "The people attending this meeting tonight need to realize our neighborhood is in desperate need of a lifeline. Our businesses are barely surviving. Our neighborhood is a mess as a result, it's sad to see what's happening down here."
Ultimately, the City Council majority felt The Kimsey project will be beneficial to the community and voted for it, although many members said there was a lot of thought that went into the decision.
Read More (subscriber content)