By Jamie Landers | Arizona Republic
Will an Amtrak stop be coming to Phoenix for the first time since its last train left the station nearly a quarter of a century ago?
Time will tell, but a proposed map of expanded service released by the passenger train service this week includes Phoenix for the first time since 1996.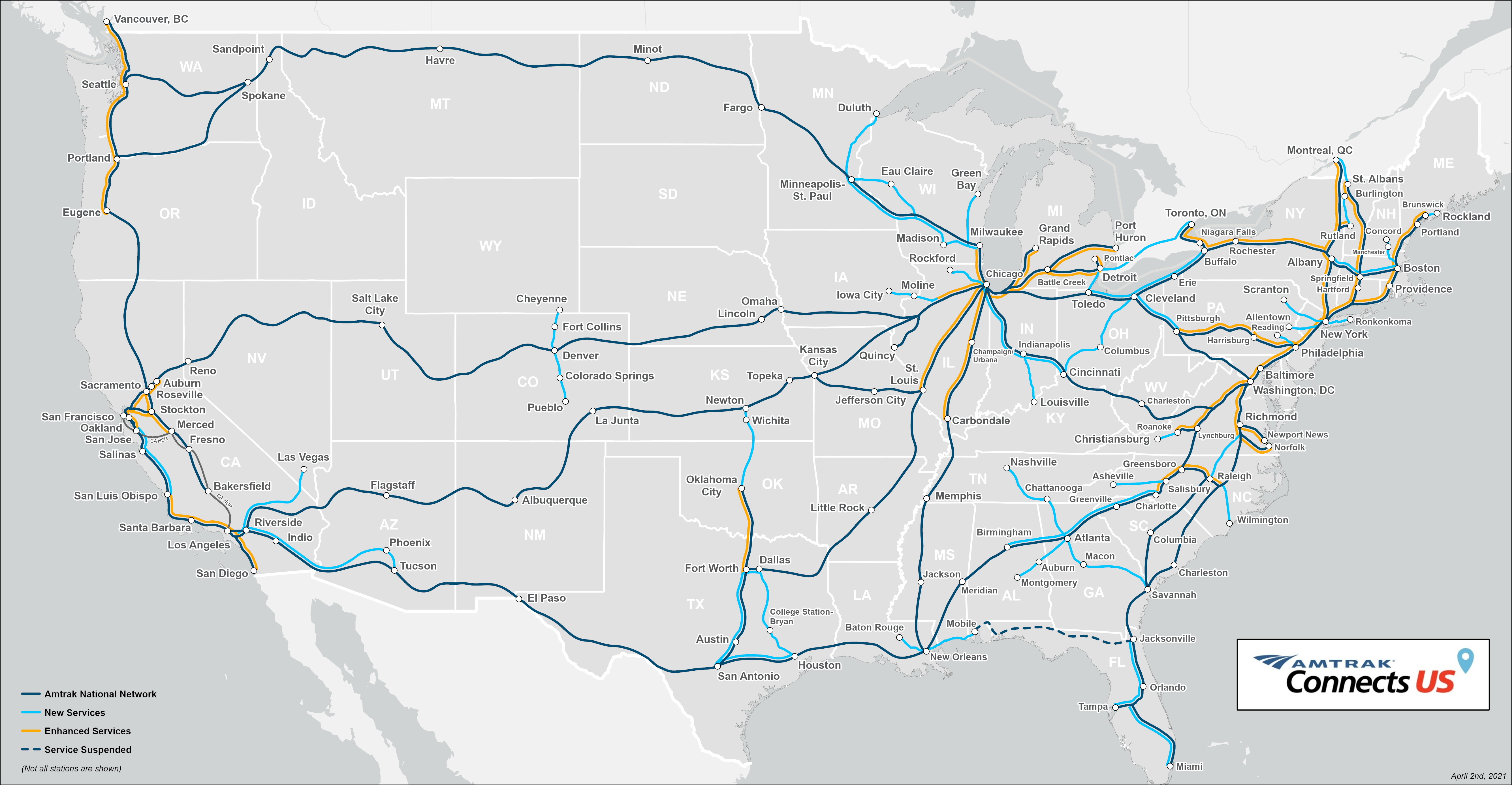 Amtrak released a map on March 31, 2021 that shows where it could expand services if it gets $80B in federal aid. The light blue lines show where there would be new service, including Phoenix.
The additions will only come to fruition if Amtrak secures the $80 billion proposed by President Joe Biden as part of his infrastructure plan.
Known as the American Jobs Plan, the program would allocate $2 trillion to rebuild the nation's aging infrastructure by 2035. Biden earned the nickname "Amtrak Joe" in the 1970s for using the route from Washington, D.C., to his home in Delaware as his primary mode of transportation.
In a statement, Amtrak said it would bring "energy-efficient, world-class intercity rail service" to up to 160 new communities across the nation.
"President Biden's infrastructure plan is what this nation has been waiting for," Amtrak CEO Bill Flynn said in a statement. "Amtrak must rebuild and improve the Northeast Corridor, our National Network and expand our service to more of America."
The map displays potential routes connecting Phoenix and Tucson to large California cities like Los Angeles and Riverside, and even to Las Vegas.
Amtrak spokeswoman Olivia Irvin told The Arizona Republic on Friday that the map is subject to change, and more specific details will come out regarding each region in the next month.
Phoenix remains the largest city in the U.S. without Amtrak service. Service never resumed after it was shut down in June 1996 for the extended criminal investigation of a derailment near Hyder in western Arizona that killed a crewman and injured 78 people.
Today, Valley residents who want to use Amtrak must travel to Maricopa, about 35 miles south of Phoenix.
Read more (subscriber content)