**2022 GENERAL ELECTIONS ~ TUESDAY, NOVEMBER 8**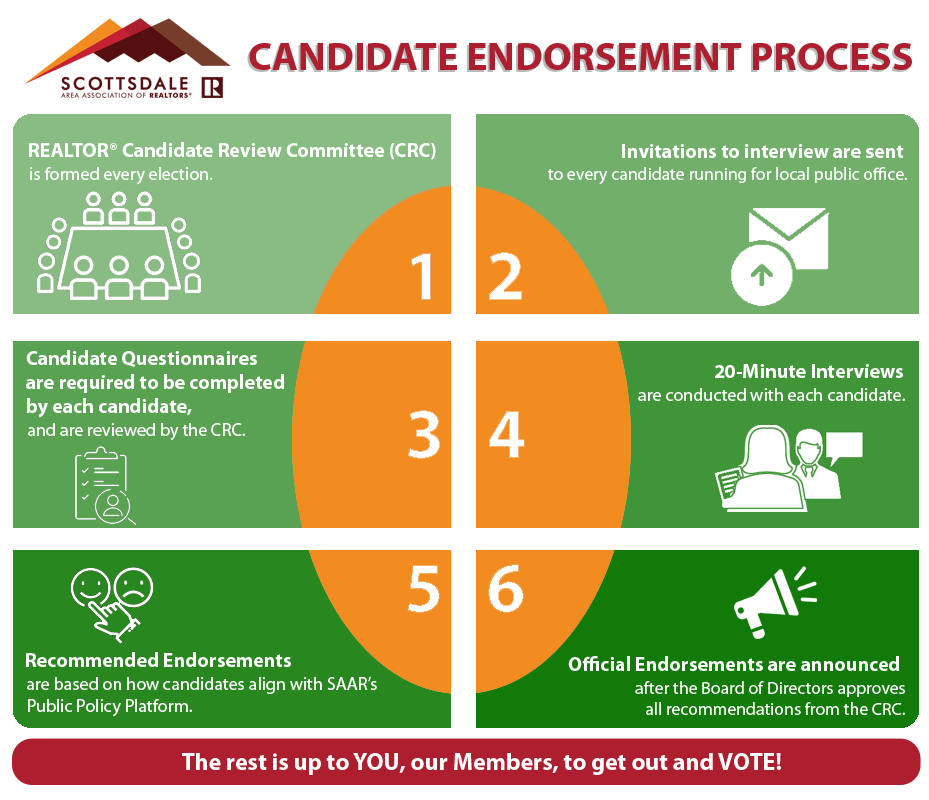 1. REALTOR® Candidate Review Committee (CRC) is formed every election
The Scottsdale Area Association of REALTORS® CRC is made up of REALTOR® members from its Government Affairs Committee, RAPAC Committee Chairs, President, President-Elect, Association Executive (CEO) and Government Affairs Director
All committee members are approved by the Board of Directors. (The 2020 committee consisted of 18 REALTOR® members who live/work directly in the communities we advocate in.)
2. Invitations to interview are sent to every candidate running for public office for the municipalities of Scottsdale, Carefree, Cave Creek, and Fountain Hills.
3. Candidate Questionnaires are required to be completed by each candidate and are reviewed by the committee.
4. 20-Minute Interviews are conducted with each candidate.
5. Recommended Endorsements are based on how candidates align with SAAR's Public Policy Platform and the following criteria:
Voting Record (if an incumbent)
Knowledge of issues
Philosophy on issues effecting the real estate industry and private property rights
Image and electability
Campaign organization and financial strength
Experience and education levels
Campaign strategy
REALTOR® involvement in the campaign
6. Official Endorsements are announced after the Board of Directors reviews all recommendations from the CRC and decides if they concur. Once voted on and approved by the Board of Directors, the candidates are officially endorsed.
National, state and other local REALTOR® associations follow this same endorsement process.