By Mark Carlisle | Scottsdale Independent
A high-rise apartment building is planned for the southwest corner of Scottsdale and Bell roads, across the street from The Promenade shopping center. The project could face pushback, as two members of the local planning committee have already said they think the 157-foot, 14-story building is too tall.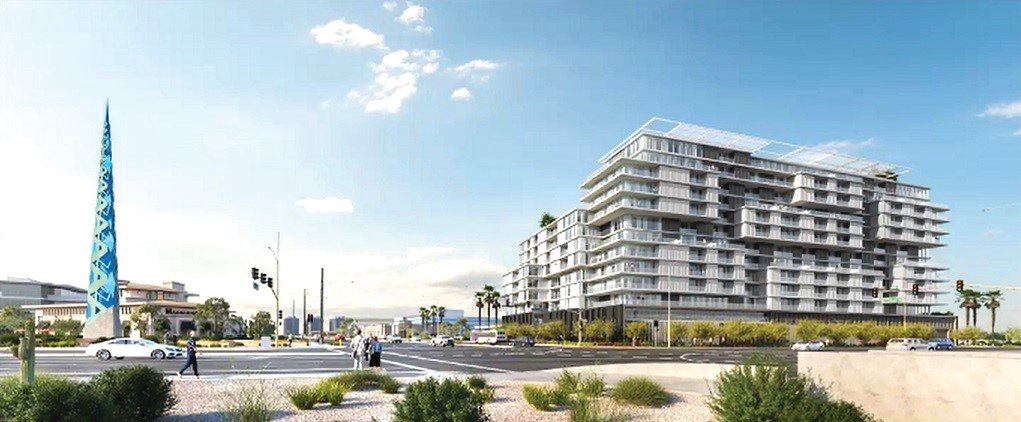 The 125-foot landmark Frank Lloyd Wright Spire on the southeast corner of Scottsdale and Bell roads is the tallest structure at the busy intersection on the Phoenix-Scottsdale border. The planned 255-unit apartment building across Scottsdale Road would be 32 feet higher, though the presenting development lawyer, Nick Wood, emphasized most of the building is 140 feet. Only two rooftop penthouses extend to 157 feet.
The spire was designed by Arnold Roy, an apprentice of the famous architect, based off original designs by Mr. Wright. The spire lights up blue at night.
Mr. Wood, from the Phoenix law firm Snell & Wilmer representing the developer, The Hampton Group, said the building is sought to be a "statement piece" designed by award-winning architecture firm Gensler. Mr. Wood said this is the type of architecture that would compliment the Frank Lloyd Wright Spire.
Two members of Phoenix's Paradise Valley Village Planning Committee liked the building's look but didn't like its height.
"I think it's a nice design, but I still have concerns about the height. It still bothers me," said Committee Vice Chairman Joe Lesher during a committee meeting last week.
Committee Member Jennifer Hall agreed.
"The height just seems a lot for me. I think the architectural design is beautiful. I like the glass. But it's just — it's tall," she said.
Read More (subscriber content)