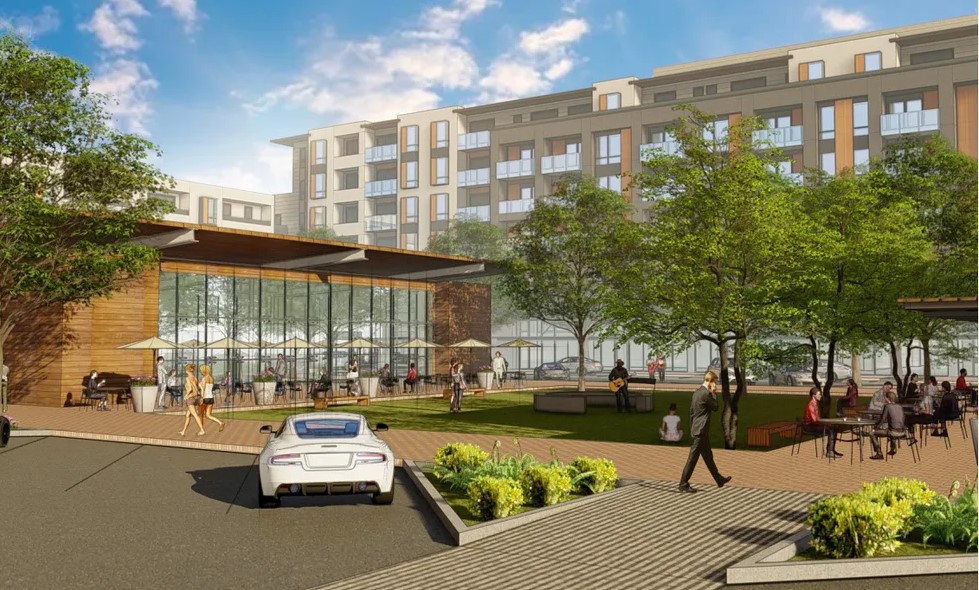 Artist rendering shows some of the green space and apartment units planned at Scottsdale Towne Square (Nielsen Partners)
By Corina Vanek | Arizona Republic
A big-box shopping center near the Phoenix-Scottsdale border could be converted to 350 luxury apartment units and smaller-scale retail, according to plans from the center's owner.
The conversion of a portion of Scottsdale Towne Square is a sign of the times, project leaders said, as owners of big-box retail buildings grapple with how to keep properties relevant as shopping habits and neighborhood desires change.
"We are taking a project that may have been perfect two decades ago or three decades ago, in terms of shape, size and content, and making it something that works today," said Jason Morris, partner at Withey Morris and zoning attorney for the case.
Morris' client, Woodbury Corp., has owned Scottsdale Towne Square since 2017, according to real estate database Vizzda. The property, on the northwest corner of Scottsdale and Thunderbird roads, was built in 1986 as a grocery-anchored shopping center.
The redevelopment plan only includes the northwestern portion of the property, totaling about 9 of 16 acres. The existing retail building on the southern portion, which includes a Natural Grocers and other retailers, is not planned to be redeveloped, and the retail pads along Scottsdale Road also aren't included.
"This is an owner that has owned it for years," Morris said of Woodbury's plans to redevelop the center. "They are very deliberate in what they do, and they recognize that this is a good asset. It's a wonderful location, great demographics and this will bring it to its highest and best use."
Phoenix has more retail space per capita than the national average, which has led to other projects converting underutilized retail to other uses, especially apartments. However, Morris said, in this case, the area has strong demand for retail space. Big-box retail has fallen out of favor for customers, as evidenced by much of the existing retail space at the center being now occupied by a church, Morris said.
Read More (subscriber content)
Some stories may only appear as partial reprints because of publisher restrictions.