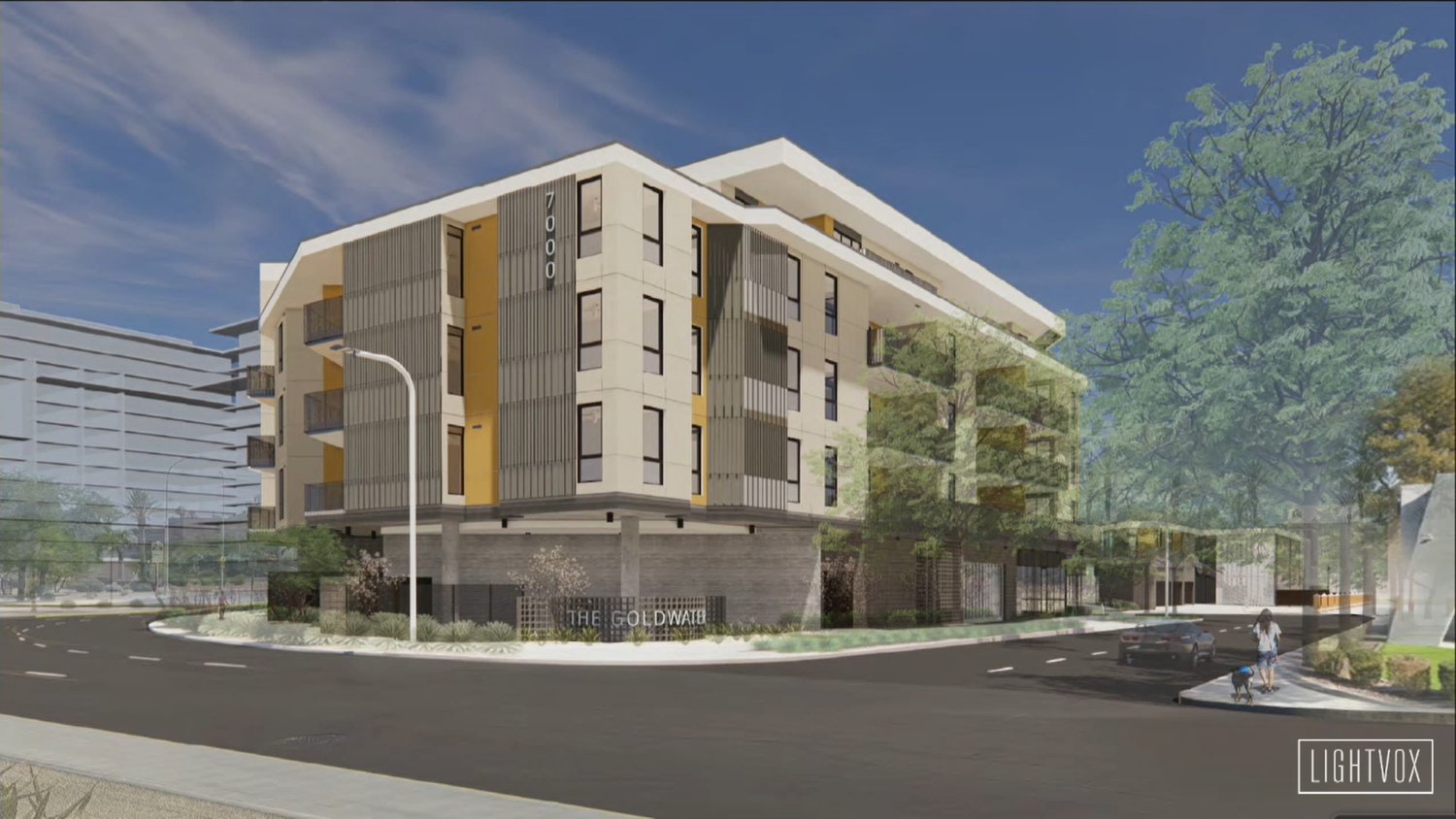 Artist's rendering of The Goldwater mixed-use project that passed Scottsdale's Development Review Board with a 6-1 vote on June 2.
By Melissa Rosequist | Scottsdale Independent
Scottsdale Mayor David Ortega is asking his City Council colleagues to initiate a formal review into a recent decision made by the Development Review Board.
The request is a part of the Scottsdale City Council's upcoming Tuesday, June 21, meeting.
On June 9, Ortega wrote an email to City Clerk Ben Lane, copying the city council and a number of top city employees, requesting an appeal of the DRB's 6-1 approval of The Goldwater on June 2.
The Goldwater application describes a mixed-use development on 1.19 acres at 7000 E. Fourth St. The application sought approval for a site plan, landscape plan and building elevations for the project that comprises 91,725 square feet building area, 40 dwelling units and 7,000 square feet of commercial area in a 70-foot-tall building. A proposed location for public art also is included.
Ortega cites a section of the city's zoning ordinance in his request for City Council to overturn the DRB decision.
"I attended the June 2nd meeting in person as an ex-officio member of the DR Board and listened to the staff and applicant presentations. I voiced my concerns about the case," Ortega said in his email.
Video from the June 2 meeting shows Ortega sitting at the dais with four other DRB members, as three members were attending electronically.
The mayor cites three reasons for his appeal request.
"There is a lack of covered walkways, which are clearly outlined as a requirement in the architectural guidelines for the downtown area," Ortega said. "The applicant attested that their tall build could serve as fulfilling shading requirements through a shade study that was done. However, this does not override the requirement for covered walkways and sets an unacceptable precedent."
Lastly, Ortega cites a cantilevering feature on top of a 70-foot building that "is not acceptable and is out of character with the surrounding area."
Council consideration of a DRB decision is a two-step process that will begin during the June 21 council meeting when elected officials will consider whether to review the decision. Public comment will not be taken at that meeting as the council is only considering whether or not to put the item on an agenda for an appeal hearing, the mayor's email outlines.
If a council majority agrees to review the decision at an appeal hearing, the review would take place during a regularly scheduled council meeting at least 30 days after the June 21 decision to schedule a hearing.
The next regularly scheduled council meeting that meets this criteria is Aug. 22.
Read More (subscriber content)
Some stories may only appear as partial reprints because of publisher restrictions.