By Corina Vanek | Phoenix Business Journal
Axis Raintree, a 175,112-square-foot speculative office building, developed as a partnership between Trammell Crow Co. and PGIM Real Estate completed construction.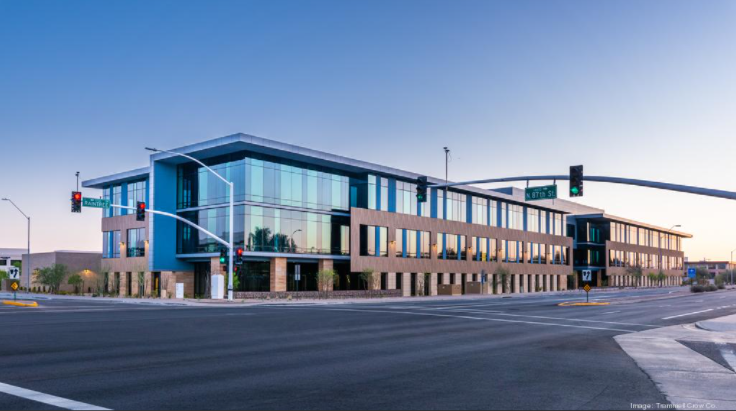 Trammell Crow Co. and PGIM Real estate completed construction on Axis Raintree in north Scottsdale.
The building began construction in October 2019 on one of the last infill office sites in the Scottsdale Airpark submarket. The project is on a 5.12-acre site near Raintree Drive and 87th Street.
"We're thrilled to partner with Trammell Crow Company to bring Axis Raintree to the market at a critical time for the office sector, as corporate tenants have a renewed interest in and need for best-in-class space," Soultana Reigle, managing director and senior portfolio manager for PGIM, said in a statement. "With its outstanding location and amenities, Axis Raintree is poised to benefit from pent-up demand for premier office space in the Phoenix area driven by favorable regional market dynamics, such as robust job growth, population gains and a business-friendly climate."
PGIM is the real estate investment and financing arm of Prudential Financial's global investment management business.
Bryan Taute and Charlie Von Arentschildt of CBRE Group Inc. are the leasing brokers for the building. No leases have been signed yet.
Read More (subscriber content)