The Scottsdale Area Association of REALTORS® (SAAR) 2021 Leadership Team has officially been installed. President Louis McCall, President-Elect Sandy Lunsford, Vice President Chris Nace, Treasurer Peggy Neely and Immediate Past President Sindy Ready assumed their new roles on December 1.
McCall was recently sworn in by his former broker Astria Wong, pinned as president by mentor Saul Blair and joined in celebration by a dozen, socially distanced guests including his mother Linda and sister Lindsay. During a video presentation, more than a dozen past presidents virtually 'passed the gavel' to McCall.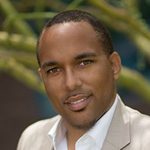 "I believe we have a great year ahead. It will not be free of challenges. However, I look forward to serving our members and our beautiful community."
– Louis McCall, 57th president of SAAR
During a virtual ceremony, SAAR directors were also installed: Allison Cahill, Jeff Dial, Michael Gant, Christopher Karas, Stacey Krolak, Lisa Roberts, Fletcher Wilcox and Angela Zampino. Cahill, Dial and Krolak are the newest members of the board.
"In my nine years of service to this association," added SAAR CEO Rebecca Grossman, "I have never been more excited by the diversity of experience and perspectives brought to our board table by the 2021 leadership team and directors."