By Corina Vanek | Phoenix Business Journal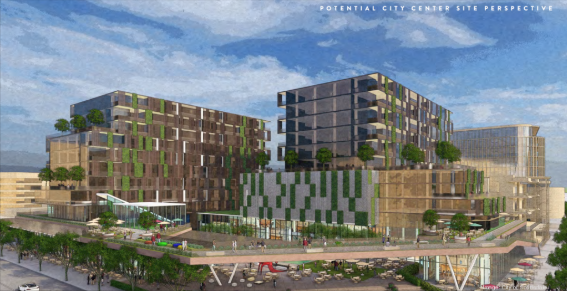 City Center concept courtesy City of Scottsdale
Steven and Shawn Yari have major plans for redevelopment in Old Town Scottsdale.
The top executives with California developer Stockdale Capital Partners have submitted plans to the city for the Scottsdale Collective project, which aims to "evolve and mature the greater entertainment district-area into a mixed-use district," according to plans submitted to the city.
Those plans include redeveloping several parcels in the vicinity of the southeast corner of Scottsdale and Camelback roads into a variety of uses, including adding hotels, office and residential space, as well as retail and public art. George Melara and Jeff Brand of Nelsen Partners and Jason Ploszaj and Joe Ellis of RSP Architects have signed on as architects on the project.
The Yaris have been amassing property in the area for years, buying more than 10 acres of land across from Scottsdale Fashion Square, according documents submitted to the city and Maricopa County real estate records.
The Scottsdale Collective will total 10.25 acres of land, though not all is to be redeveloped. In total the plans call for the project to contain 580,451 square feet of commercial space and 512 units of residential. The site is adjacent to where Stockdale is already developing the Marquee office building at Scottsdale Road and Shoeman Lane.
Plans call for redeveloping what the application calls the "City Center" parcel, which is at the intersection of Scottsdale and Camelback roads. The intention is to demolish the existing buildings on the site to be redeveloped into a 160,600-square-foot hotel tower, a 116,500-square-foot residential tower and 41,000 square feet of retail space.
"The redevelopment of the City Center parcel focuses on creating a new gateway destination for Old Town," the application submitted to the city said. The Yaris have owned the City Center site since buying it in 2015 for $22.6 million, according to real estate database Vizzda.
Read More (subscriber content)