Questions to Ask About Remote Online Notarizations
by Fletcher Wilcox, Grand Canyon Title Agency VP
The coronavirus storm will change the way certain businesses conduct their business. One industry that was in transition before the coronavirus arrived was the notary industry.
On July 1, 2020, a law was to take effect for remote online notarization (RON) in which signers and notaries could meet online using audio-visual technology. However, with the coronavirus thrust upon us, Arizona Governor Doug Ducey issued Executive Order 2020-26 accelerating this timeline.
The law for remote online notarization became effective April 10, 2020.
This article will attempt to clarity and distinguish the new remote online notarization process from other notarization processes such an electronic notary and a hybrid e-closing. This article will suggest actions for real estate agents to take to find out what types of notarization may be available for their buyers and sellers.
Shortly after the Executive Order became law, the Arizona Secretary of State posted an online application process to become a remote online notary and/or an electronic notary. To apply, you must be a current Arizona notary.
What is the difference between a remote online notary and an electronic notary? According to the Arizona Secretary of State's website:
Remote notarization is when a signer personally appears before the notary at the time of the notarization using audio-visual technology over the internet instead of being physically present in the same room.
Electronic notarization involves documents that are notarized in electronic form and the notary and document signer sign with an electronic signature. All other elements of a traditional, paper notarization apply including the requirement for the signer to physically appear before the notary.
The chart below attempts to clarify the five different notarization processes.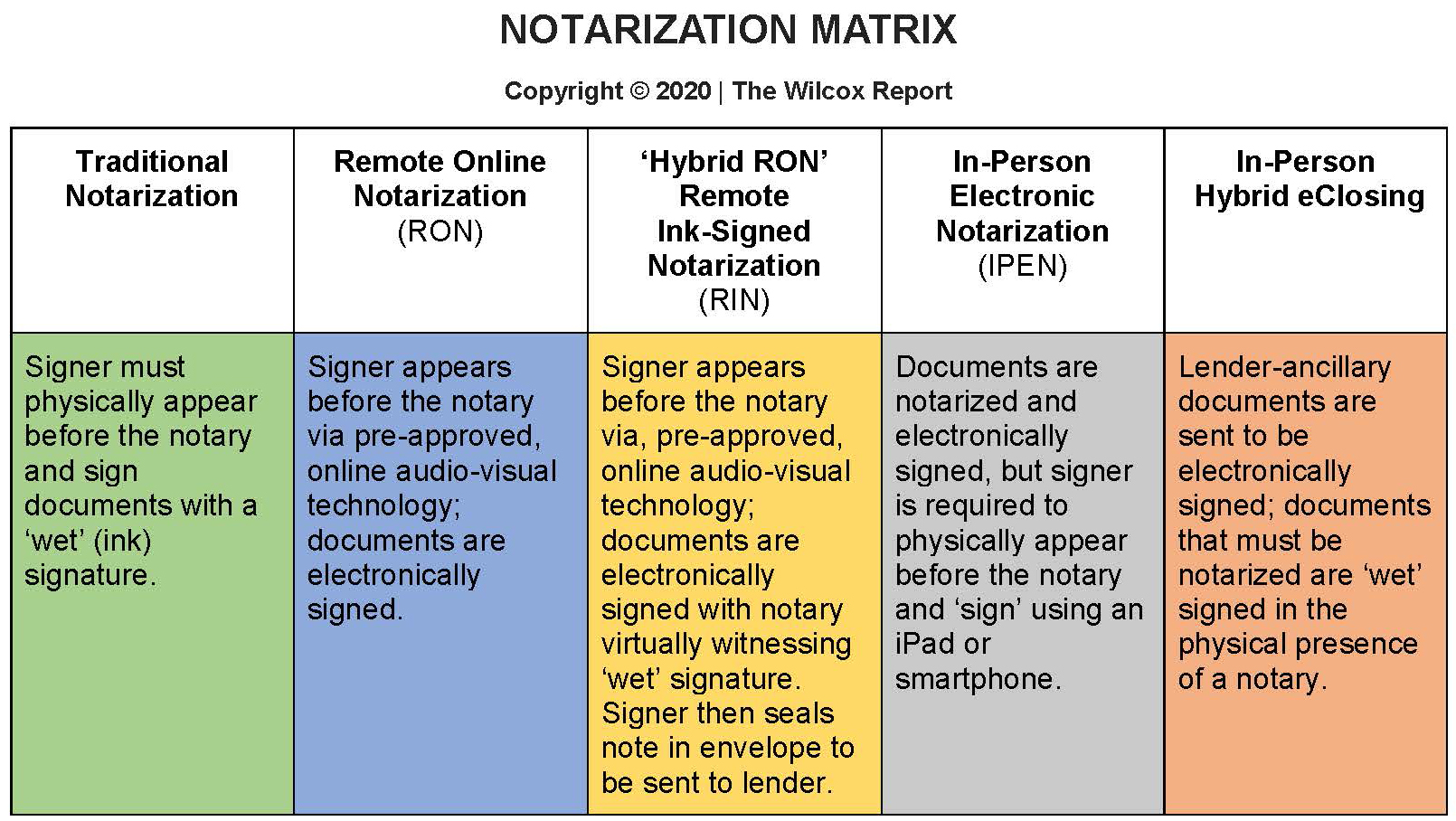 How does a real estate agent find out if a RON is available for their client?
If the client is a buyer obtaining a loan, ask the client's lender if a RON is available; the lender in their Closing Instructions to the escrow company must explicitly authorize the use of a RON. Additionally, all parties in the transaction will have to agree in writing to the RON and must be U.S. citizens because of current ID verification.
If a lender will not approve a RON, the lender may have a hybrid e-closing available to a borrower. See the chart below for more details.
If a transaction is cash, ask the escrow company to see if the transaction qualifies for a RON.
While technology advances were already creating more opportunities for things such as remote online notarization, the coronavirus pandemic sped up the process.
One thing is for sure, RON is here to stay and the utilization of it will only get better.