By Catherine Reagor, Kunle Falayi | Arizona Republic
Metro Phoenix's red-hot housing market abruptly started slowing in the summer and in most neighborhoods quickly shifted toward buyers for the first time in years.
Many potential homebuyers who had been shut out of the market by investors and rapidly rising prices are thrilled.
More sellers are dropping prices or offering other concessions, including mortgage rate buydowns.
It's a fast reversal of 2021 and early this year, when bidding wars were the norm, prices climbed higher than listings and appraisals, few open houses were held, and sellers regularly said no to paying for repairs. Metro Phoenix's median home price jumped 30% in 2021 and climbed another 9% during the first half of this year before the slowdown started.
Rapidly rising inflation, mortgage rates and listings as well as fears of a recession started to propel the housing market downward in June. Home sales and prices started to fall then and are projected to keep slipping for the rest of 2022 and into January 2023.
Based on pending sales, metro Phoenix's median home price is expected to have dropped to $419,000 in November, after hitting a record $475,000 in May.
Falling prices, market better for buyers now
Most Valley neighborhoods saw median house price drops during the third quarter of this year, after several quarters of heady price increases.
In 110 of metro Phoenix's 150 ZIP codes, the median home price fell between July and September, according to an Arizona Republic analysis of Arizona Regional Multiple Listing Service data.
Nicholas Blincoe had been renting since he graduated from college six years ago and wasn't interested in getting into bidding wars to buy. In July, when the market started to slow, he began looking in the Biltmore area with a budget of $500,000.
"The market was tougher when I first started looking, with no sellers willing to come down in price or offer concessions," Blincoe said. "But the condo I bought (in October) didn't need work, and the sale was easy."
The median price in the Biltmore area, ZIP code 85016, dipped about 5%, or $25,000, in this year's third quarter.
But 30 ZIPs saw price drops of more than 10% during July, August and September compared with the three months prior.
And the median price plunged by more than $100,000 in at least 10 ZIP codes.
Home sales drop, tracking interest rate increase
The number of home sales also fell in most metro Phoenix areas. During the third quarter, 124 ZIPs experienced falling sales compared to the second quarter, according to the Republic's analysis. The number of sales went up or stayed about the same in 26 ZIP codes.
"The slide in Valley home sales tracks closely with the increase in interest rates," said Tina Tamboer, Cromford Report senior housing analyst. "There's demand from buyers, but more can't afford the higher rates."
The average 30-year mortgage rate was 3.2% in January and climbed to a 20-year high of 7.1% in October, according to Freddie Mac. It has since ticked down a bit and has been hovering around 6.5% during the past few weeks.
Overall, Phoenix-area sales fell by over 6,000 residences during this year's third quarter. That is down from a total of 22,246 sales during 2022's second quarter.
Third-quarter sales fell by more than 7,000 year-over-year. There were about 23,700 sales in the same quarter of 2021.
"We are seeing a significant year-over-year decline in the housing market, with fewer sales and more cancellations," said housing analyst Tom Ruff with The Information Market, a division of ARMLS.
He said that based on pending sales, home closings in 2022 could fall as much as 50% from 2021's record pace.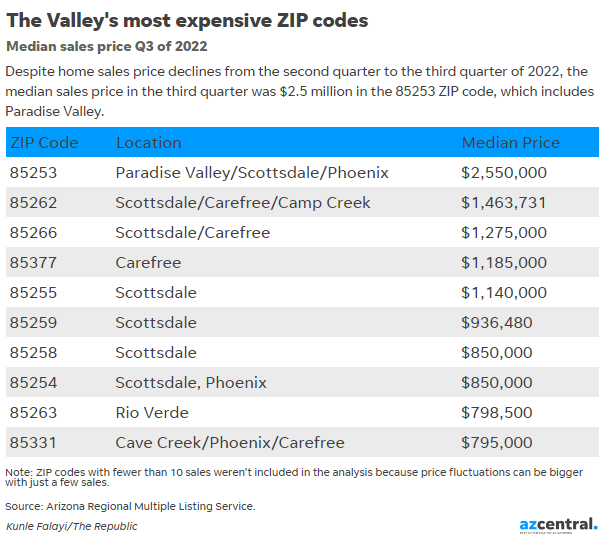 Read more (subscriber content)
Some stories may only appear as partial reprints because of publisher restrictions.