By Angela Gonzales | Phoenix Business Journal
The buying frenzy in the Valley's luxury home market appears to have ended.
"I don't feel the market is dead in any way," said Robert Joffe, co-founder of Launch Real Estate. "There's just no question it's a complete slowdown from what it was, but I feel we are in a balanced market right now, almost leaning toward a buyer's market."
Luxury home deals are still closing, he said, adding that he just entered escrow this weekend for a $3.5 million home in Arcadia, representing $875 a square foot.
"It didn't even hit the market, and they had two offers on it," he said. "Deals are still getting done."
Luxury real estate agents say the tide may be turning to a buyer's market for homes priced over $1 million at a time when sellers are starting to reduce their prices.
Sandra Gaare, REALTOR® with Berkshire Hathaway HomeServices Arizona Properties, listed a $6.5 million equestrian property on July 8 in north Scottsdale.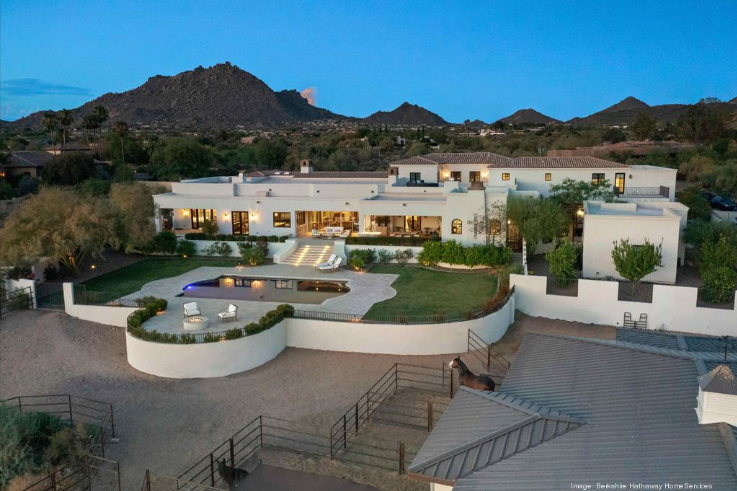 This equestrian property in north Scottsdale is listed for $6.95M. | Berkshire Hathaway HomeServices
That 11,059-square-foot home at 23618 N. Church Road replaced a smaller home in 2016, and the 830-square-foot guest house was remodeled in 2020, Gaare said.
"They completely tore down the existing house down to the studs and rebuilt this new home," she said.
While Gaare declined to reveal the name of the sellers or why they are selling, public records show the owners are Troy and Maria Harris.
She said she's had several calls on the property, especially people from out of town.
"We have had some excellent showings as well," she said.
The luxury market feels like a normal pre-COVID summer season, she said, where showings and sales slow down during the summer heat.
Typically, the luxury home market slows down during the hot summer months in the Valley before picking up the pace in the lead-up to the big selling season between January and May, Joffe said.
Read more (subscriber content)
Some stories may only appear as partial reprints because of publisher restrictions.