By Andy Blye | Phoenix Business Journal
Most everyone under the Arizona sun knows that the state is growing in population, but the majority of the newcomers into the Grand Canyon State have more money to spend — and it is having a major impact on home prices.
Arizona's population grew by about 98,000 people (or 1.4%) between 2020 and 2021, which was the fourth-largest growth rate in the country, behind Idaho, Utah and Montana. In terms of the sheer number of newcomers, only Texas and Florida added more people during the same time period, according to population data from the U.S. Census Bureau.
The bulk of Arizona's population resides in Maricopa County, which was again the fastest-growing county in the nation, adding more than 21,000 net new tax filers between 2019 and 2020. Pinal County, just south of Maricopa, was the 10th fastest growing, with about 7,900 net new filers.
The COVID-19 pandemic spurred migration across the country, as people reevaluated their lives, the ways they work and where they wanted to live.
The biggest population losers during the first year of the pandemic were large urban areas, including the counties that house New York City, San Francisco, Los Angeles and Chicago. These major metros each lost tens of thousands of residents, according to Census Bureau data, and some of them chose to move to Arizona.
Most of the people who moved into Maricopa County between 2019 and 2020 came from California, specifically from Los Angeles, San Diego and Orange counties; About 9,200 left those three counties to move to Maricopa County.
A CLOSER LOOK AT THE VALLEY
Below are the top out-of-state counties from which, in aggregate, Maricopa County and Pinal County attracted out-of-state residents in 2019 and 2020, ranked by total adjusted gross income.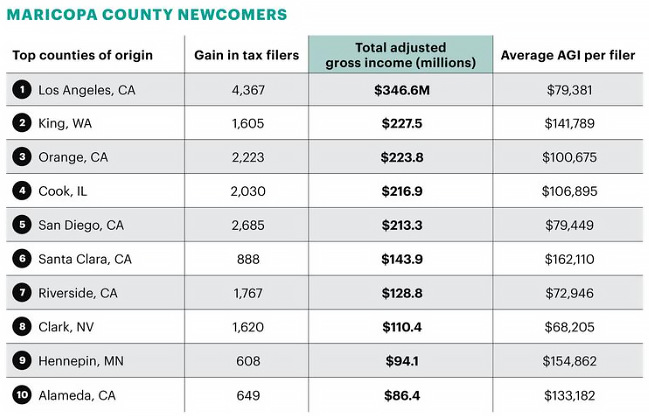 Outside of California, most newcomers to the county came from regional neighbors such as Nevada, Washington and Utah, as well as thousands from Cook County, Illinois, home of Chicago.
On average, these newcomers were wealthier than their new Arizona neighbors. Maricopa County's median household income in 2020 was nearly $72,000, but newcomers from California, Chicago and Seattle all came with average incomes of $79,000 or higher, according to IRS data.
Some Arizonans are not so fond of new neighbors moving in — some "Don't California My Arizona" bumper stickers can be seen these days around the Valley — but the flow of people goes both directions.
Thousands of people left Maricopa County between 2019 and 2020 and they went to Los Angeles, San Diego, Seattle, Chicago and Las Vegas as well as various counties in Texas.
Read more (subscriber content)
Some stories may only appear as partial reprints because of publisher restrictions.