Code of Ethics Training
Do you need to take the Code of Ethics?
If you are unsure whether you have fulfilled this requirement, check your Code of Ethics Status (login required). If you cannot access your records, and are a member of Scottsdale REALTORS®, call 480.945.2651 during regular business hours.
How to Earn Your Code of Ethics
Visit our Code of Ethics class calendar to see upcoming Raise The Bar courses that meet the triennial ethics requirement and provide 3 hours of Commissioner's Standards CE (continuing education) credits.
Non-CE version of the Code of Ethics course is available online to NAR members for free.
CE versions are also available online from our partners for a small fee:
Other real estate schools may offer classes that may meet NAR's requirement for Code of Ethics. If you have completed or are considering such a course, and are a Scottsdale REALTORS® member, call  480-945-2651 to verify that class qualifies and so we may update our records.
Send in your Certificate of Completion.
If you did not take an ethics course through Raise The Bar Real Estate School, please provide proof of attendance in the form of a certificate from a NAR-approved triennial ethics course. Uploading certificates to the Arizona Department of Real Estate does not notify your association. You must send a copy of your certificate to info@ScottsdaleREALTORS.org or fax it to 480.422.7945.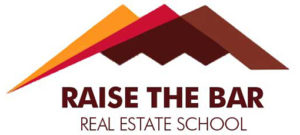 Raise The Bar Real Estate School is wholly owned and operated by the Scottsdale Area Association of REALTORS®.

Requirements
REALTORS® must take a Code of Ethics course once every 3-year cycle (triennial)
For example, if you did not complete a NAR-approved Ethics course between Jan. 1, 2019 and Dec. 31, 2021 (cycle 6), you are in violation of a membership requirement and your membership will be suspended* until the requirement is met.
*NAR defintion: "(S)uspension of all Board/Association-provided rights, privileges and services" including any provided by state and national associations, and use of the term REALTOR®.
Code of Ethics Background
Mandatory ethics training requirements for new and continuing REALTOR® members were established by the National Association of REALTORS® (NAR) Board of Directors in 1999 to heighten member awareness of the key tenets of the Code of Ethics; to create an awareness of and appreciation for the role the Code can and should play in their professional lives; to enhance professionalism and competency; and to encourage REALTORS® to view their Code of Ethics as a living, viable guide in their daily dealings with clients, customers, and the public.
In November 2020, NAR's Board of Directors added Standard of Practice 10-5 to the Code of Ethics and amended Professional Standard #29, both of which are effective immediately. For details on all the changes adopted, visit Code of Ethics & Professional Standards Policies.