Broker Licensing Classes
Tuition
The six-week course is only $579 and includes everything you need:
90-hours of Broker pre-licensing
Test preparation quizzes
Review tests
1-hour tutoring session
Post-license Broker Mgt. Clinic
Requirements
To obtain a real estate broker's license in Arizona, requirements by
the Arizona Department of Real Estate include:
Complete 90-hours of Broker pre-licensing education
Pass the school's final examination (included)
Pass the Arizona State Real Estate examination
Attend a Broker Mgt. Clinic before activating (included)
Be at least 18 years of age
Obtain a Fingerprint Clearance Card
Have 3 years actual experience as a licensed real estate agent within 5 years immediately preceding license application.
Note: If you hold or held a real estate license in another state, you may be eligible to obtain a broker's license in Arizona.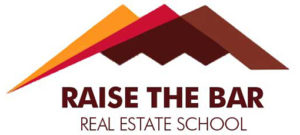 Raise The Bar Real Estate School is wholly owned and operated by the Scottsdale Area Association of REALTORS®.

Cancellation / Refund Policy
Prior to any materials being distributed, a 10% administrative fee will be charged for cancellation. After materials have been distributed, a 50% refund will be allowed up to 10 sessions attended. Following the 10th session, a $30 additional charge for each session attended will be deducted from any remaining tuition. Once materials have been distributed, they cannot be resold as new, therefore the school will not accept the return of  materials in expectation of a full refund. RETURNED CHECKS will incur a $50 charge.