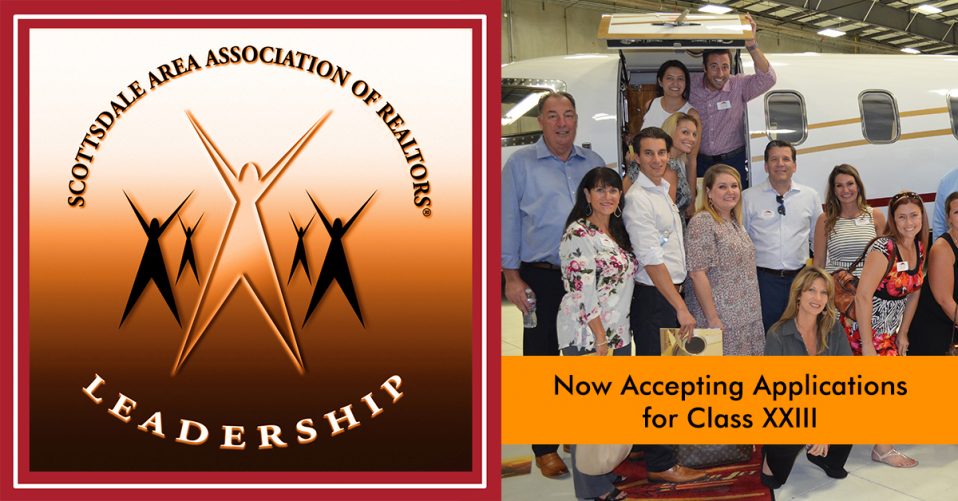 Ready to take your leadership skills to the next level?
The Scottsdale Area Association of REALTORS®Leadership Academy was created in the spring of 1997. The Leadership Academy introduces its candidates to the community and the associations they are a part of and much more.
2019 Class Dates and Activities
The Scottsdale Area Association of REALTORS® Leadership Academy meets once a week from August through November. The program includes leadership training in a variety of ways with intense learning experiences throughout SAAR and theScottsdale community. Classes for 2019 begin on August 22 and conclude on November 15 and are typically held every Thursday (7:45 a.m. – 4:30 p.m.). Following is this year's class schedule (also available for download):
• Orientation / Team Building | August 22 (Thursday)
• Association | August 29 (Thursday)
• Corporation Day | September 04 (Wednesday)   *AAR Caucus 09/05
• Know Your City | September 12 (Thursday)
• Stewardship Day | September 19 (Thursday)
• Travel | Sports | Leisure | September 26 (Thursday)
• Healthcare | October 03 (Thursday)
• Education | October 10 (Thursday)
• Public Safety – Police | October 17 (Thursday)
• Arts | Culture | October 24 (Thursday)
• Public Safety – Fire | October 31 (Thursday)
• Commencement | November 20 (Wednesday)
Accepting nominations and applications starting Wednesday, May 15!
The Scottsdale Area Association of REALTORS® continues its highly-respected tradition of shaping future community leaders through the SAAR Leadership Academy. Soon Class XXIII will be selected and asked to complete carefully-designed modules that add value to the career path of each class member. Nominations are not required in order to apply. You can nominate someone or apply for the class yourself using the links below:
The deadline for CANDIDATE APPLICATIONS is Monday, July 8.
11 UNIQUE DAYS
Once a week (typically Thursdays) from late August through November, participants will have a day of leadership training and unique learning experiences.
MARKETING PARTNERSHIPS
Marketing Partnerships are  $600 per day, or you can split the day with another SAAR Affiliate $300 each, with no other expenses required of the marketing partner. You must be a current Scottsdale Area Association of REALTORS® affiliate member to participate. For more information on supporting an day's event, contact Koryn Duran at Koryn@ScottsdaleREALTORS.org.
EXPAND YOUR BUSINESS .. & YOURSELF!
Graduates have gone on to become leaders within the Association, in the community and government environments. They have improved their leadership qualities to enhance their business as well as the companies for which they work.
ALUMNI NETWORK
Scottsdale Area Association of REALTORS® is proud to have more than 200 Leadership Academy alumni–many of whom are still active in the Association and community today. The alumni network gets together regularly and are among the first to know about new and exciting things happening at Scottsdale Area Association of REALTORS®.
More Questions?