By Fletcher Wilcox | VP, Grand Canyon Title (July 2, 2020)
Greater Phoenix Single Family Resales in June 2020 thumped May by 1,940 sales.
June sales were the highest so far this year — beating the previous record set in March by 615 sales and falling only 91 sales behind June 2019 (6,827).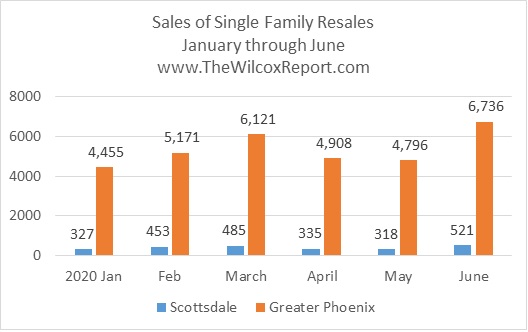 Source: ARMLS
Greater Phoenix
The Greater Phoenix Median Purchase Price (MPP) of a Single-Family Resale hit a new high this June. The June MPP of $339,900 beat the record of $335,000 set in both March and April. The MPP in May dipped to $327,000 while the June 2020 MPP of $339,900 was $32,615 or 11 percent higher than June 2019 ($307,285). New monthly listings for June of 5,763 were 335 or six percent less than new monthly listings in May.
Scottsdale
In June, Scottsdale had its best month-of-the-year for the number of Single-Family Resales. There were 521 sales in June compared to 318 in May. Previously, March had the most at 485. The Scottsdale MPP was $635,900 in June. This is $6,400 higher than in May ($629,500), but not as high as April ($710,000). New Monthly Listings in June (507) were about break even with May (505).
Comeback Kid: The Luxury Market
June Luxury Sales jumped over May. There were 219 sales in June on single-family homes $1M and up compared to 136 in May. That was an increase of 61 percent in just one month!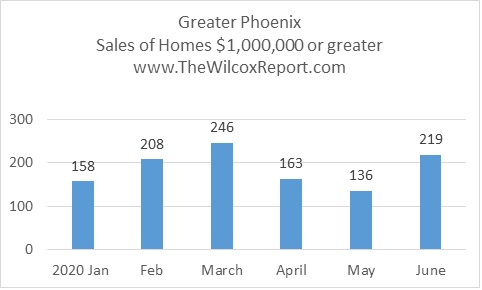 Source: ARMLS
July sales will be even better than June's. So, Get Out There and Sell!
And if you need help converting housing statistics into client messages for video, social media and more, be sure to register for Influencer 3: Sharing Data on July 23, 2020.