Raise The Bar Pre-Licensing Course Is Your Path to a Lucrative, Independent Career as a REALTOR®
FEBRUARY 7 – MARCH 23, 2022
Monday thru Thursday 5:30-9 p.m.
Click here to register today and take your first step to an exciting career!
Questions? Call 480.454.2145.
REALTORS® are fundamental to the American Dream — their guidance and expertise are critical for individuals and families who want to lay down roots, invest or transition. Not only does this role bear much purpose, but it also offers agents flexibility, independence and vast opportunities for growth. REALTORS® change lives, and Raise The Bar provides the foundation to make it happen.
A pre-licensing class is the first required step. Raise The Bar's pre-licensing course is an ideal choice for you to spread your wings in Scottsdale and surrounding communities. Taught by top real estate professionals, Raise The Bar offers expert instruction, smaller class sizes and available one-on-one tutoring.
Aspiring Agents Can't Pass Up a Great Deal
For Only $479, we offer an incredible package:
90-hours of Pre-licensing education
Test preparation quizzes
Review tests
One-on-one tutoring session
Post-license Contract Writing Course
Broker matching available
10% Discount at our REALTOR® Store
PLUS 30 Days of Business Planning Support!
Registration Open Now
It all starts here. Launch your real estate career:
When: Feb. 7 to Mar. 23, 2022; Monday through Thursday from 5:30 to 9 p.m.
Registration Deadline: Jan. 28, 2022
Where: Venue8600 | 8600 E Anderson Dr, Scottsdale 85255
Cost: $479
Register Here
Questions? Call 480.454.2145.
Requirements
To obtain a real estate salesperson's license in Arizona, requirements by
the Arizona Department of Real Estate include:
Complete 90-hours of Pre-licensing education
Pass the school's final examination (included)
Pass the Arizona State Real Estate examination
Attend a six-hour Contract Writing course (included)
Be at least 18 years of age
Obtain a Fingerprint Clearance Card
Hire on with a Broker at time of application or after licensing online.
Note: If you hold or held a real estate license in another state, you may be eligible to
obtain a broker's license in Arizona.
A rewarding career is within reach — after only a few weeks.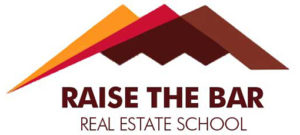 Raise The Bar Real Estate School is wholly owned and operated by the Scottsdale Area Association of REALTORS®.

Cancellation / Refund Policy
Prior to any materials being distributed, a 10% administrative fee will be charged for cancellation. After materials have been distributed, a 50% refund will be allowed up to 10 sessions attended. Following the 10th session, a $30 additional charge for each session attended will be deducted from any remaining tuition. Once materials have been distributed, they cannot be resold as new, therefore the school will not accept the return of  materials in expectation of a full refund. RETURNED CHECKS will incur a $50 charge.