When:
September 28, 2022 @ 8:30 am
2022-09-28T08:30:00-07:00
2022-09-28T08:45:00-07:00
Where:
Scottsdale REALTORS®
Venue8600 | 8600 E Anderson Dr
Scottsdale 85255
Contact:
Annalisa Moreno
480.945.2651
Pre-registration required.
Guest speaker: Matthew Streeper, SRP Land Rights Management Mgr
Topic: Land Management Criteria for Next 100 Years
8:30 a.m. – Networking
9 a.m. – Program
Coffee & tea provided
Prepaid breakfast options available during registration
Pre-register for you chance to win a door prize!
Immediately followed by the MAG Moneyball Mapping Workshop.
---
Disclaimer Notice:
Due to the circumstances created by COVID-19, there is a heightened degree of personal risk and responsibility in attending meetings or events. With in-person attendance at any Scottsdale REALTORS®/Venue8600 meeting or event, attendees acknowledge these risks and agree to take full personal responsibility for them:
Despite efforts to minimize the spread of COVID-19, you may be exposed to the virus by being part of or attending this meeting/event
Attendees agree to monitor their own health and will not attend the meeting/event if they feel ill, have COVID-19 or flu-like symptoms.
If you have been in close contact with someone who tested positive for COVID-19, wear a high-quality mask for 10 days and get tested 5 days after exposure.
Understand that attendees are encouraged to wear masks, social distance from other attendees, respect the space of other meeting/event attendees and follow any and all other social distancing guidelines and protocols imposed by the federal, state or local laws. Refusal to abide by these guidelines and protocols may result in you being asked to leave the meeting/event.
---
TOUR COORDINATORS
Sabrina Walters, Commercial Connections chair | email
Amy Coblentz, Commercial Connections co-chair | email
SOCIAL MEDIA
Click here and ask to join our Facebook Commercial real estate group.
---
MARKETING PARTNER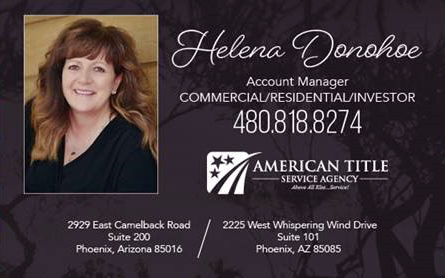 Helena Donohoe | 480.818.8274 | email
---
Get your brand in front of the right audience
Become a Commercial Forum Marketing Partner | Questions? Email Annalisa Moreno.