When:
August 18, 2022 – October 27, 2022
all-day
2022-08-18T00:00:00-07:00
2022-10-28T00:00:00-07:00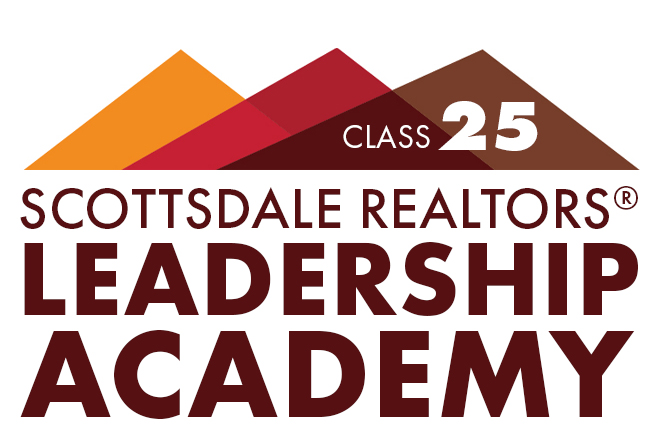 Are you ready to take your leadership skills to the next level?
The Scottsdale REALTORS® Leadership Academy first launched in 1997 and has helped prepare
hundreds of future leaders to work with the association, local communities and organizations.
---
Nominations & Applications for 2022 Leadership Academy Class 25 are now closed.
---
The Scottsdale Area Association of REALTORS® Leadership Academy meets once-a-week from August 18 through October 27, 2022. The program includes leadership training in a variety of ways with intensive learning experiences.
Classes are usually Thursdays from 8 a.m. to 4 p.m.
11 UNIQUE LEARNING EXPERIENCES
Orientation/Team Building Day | Thursday, Aug. 18
Corporation Day | Thursday, Aug. 25
Association Day | 

Wednesday

, Aug. 31
Healthcare Day | Thursday, Sep. 8
Education Day | Thursday, Sep. 15
Know Your City Day | Thursday, Sep. 22
Police Day | Thursday, Sep. 29
Arts & Culture Day | Thursday, Oct. 6
Stewardship Day | Thursday, Oct. 13
Fire Day | Thursday, Oct. 20
Travel Sports & Leisure Day | Thursday, Oct. 27
---
EXPAND YOUR BUSINESS & YOURSELF!
Graduates have gone on to become leaders within our association, in the community and local government. They have improved their leadership qualities to enhance their business as well as the companies for which they work.
---
ALUMNI NETWORK
Scottsdale Area Association of REALTORS® is proud to have more than 200 Leadership Academy alumni–many of whom are still active in the Association and community today. The alumni network gets together regularly and are among the first to know about new and exciting things happening at Scottsdale Area Association of REALTORS®.
---
MARKETING PARTNERSHIPS
Leadership Academy Marketing Partners pay $600 per class day or you can split a day with another current Affiliate member. For more information on supporting one or more days, email Koryn.
---
More questions? Contact CEO Rebecca Grossman at Rebecca@ScottsdaleREALTORS.org
Disclaimer Notice:
Due to the circumstances created by COVID-19, there is a heightened degree of personal risk and responsibility in attending meetings or events. With in-person attendance at any Scottsdale REALTORS®/Venue8600 meeting or event, attendees acknowledge these risks and agree to take full personal responsibility for them:
Despite efforts to minimize the spread of COVID-19, you may be exposed to the virus by being part of or attending this meeting/event
Attendees agree to monitor their own health and will not attend the meeting/event if they feel ill, have COVID-19 or flu-like symptoms.
If you have been in close contact with someone who tested positive for COVID-19, wear a high-quality mask for 10 days and get tested 5 days after exposure.
Understand that attendees are encouraged to wear masks, social distance from other attendees, respect the space of other meeting/event attendees and follow any and all other social distancing guidelines and protocols imposed by the federal, state or local laws. Refusal to abide by these guidelines and protocols may result in you being asked to leave the meeting/event.