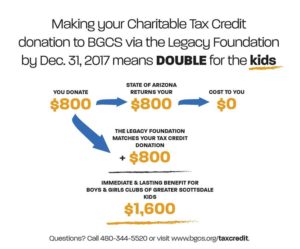 The Boys & Girls Clubs of Greater Scottsdale is a charitable organization that is near and dear to the hearts of the Scottsdale Area Association of REALTORS® and its members; and now it's possible to contribute with additional generosity.
When making a contribution to this charitable organization, the amount is doubled because the Legacy Foundation will match any donation up to $400 for individuals or $800 for couples if made by December 31, 2017. And when you take advantage of a charitable tax credit, the cost for doubling up is nothing!
Don't hesitate, there are only a few weeks left to double contributions to help deserving kids in the Scottsdale area. For more information or to CONTRIBUTE NOW to the Boys & Girls Clubs of Greater Scottsdale, visit:
https://www.bgcs.org/donate/tax-credit/.