If you have not done so already, it is more critical than ever to take part in the NAR "Call for Action", which will continue until the Senate acts on the Tax Reform legislation.  The House of Representatives passed H.R. 1, the Tax Cut and Jobs Act, early Thursday, Nov.16, in a final vote of 227-205 with two members not voting.  Meanwhile, NAR's opposition to the Senate proposal remains unchanged.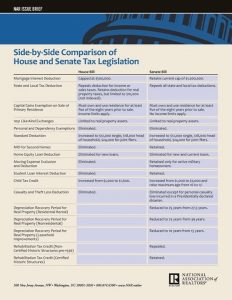 The Call for Action has been updated to ask United States Senators to oppose the Tax Cuts and Jobs Act, there will not be a "new" Call for Action.
To compare the Senate and House Tax Reform proposals, click here to download the chart.
For additional information on this and other legislative issues, visit www.REALTORActionCenter.com